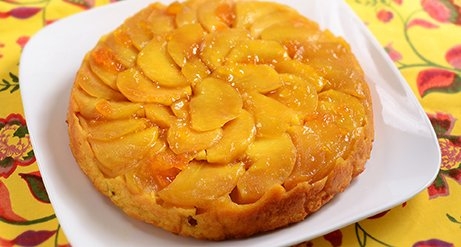 Ingredients for the cake / 9in circular:
1 Pack Nijiya Mirin Kasu (In room tempeture)
160g Nijiya Organic flour
80g Sugar
3 Eggs (room temperature)
1 teaspoon Baking powder
1 stick Butter (in room temp)
80g Raisins that are marinated in orange liqueur

Ingredients for boiled apples:
2 organic apples
1 tablespoon Sugar (Please adjust to your favorite sweet.)
1 tablespoon butter

Material of caramel
3 tablespoons Sugar

Directions:
1. Preheat oven to 350F

2. Remove the core of apples and cut into 5mm long pieces. Boil the apples with sugar and butter over medium to low heat.

3. In a bowl, mix in butter and sugar, mix well. Add in Mirin Kasu, mix, and then add in the eggs one by one. Mix well.

4. Add in flour and baking power in the same bowl. Sprinkle raisins with flour and add it into the bowl.

5. In a 23cm circular baking tray, spread aluminum foil.

6. In a pan, make the caramel sauce with the sugar, and spread it onto the baking tray.

7. Add in the sliced apples.

8. Pour in the cake batter. Bake in the oven for 25-30 minutes, or until cooked. Insert a bamboo skewer into the cake and pull it out. If it comes out clean, the cake is done.

9. Remove the cake from the oven. Allow the cake to cool before you remove it. A dish is put over the cake and turned upside down, apple becomes the top.
---
パウンドケーキの材料 / 9inchの丸型:
ニジヤみりん粕 (室温にもどしておく)…1パック
ニジヤオ−ガニック薄力粉…160g
砂糖…80g
卵(室温にもどしておく)…3個
ベーキングパウダー …小さじ1
バター(室温にもどしておく)…1スティック
オレンジリキュールに漬けたレーズン…80g

煮りんごの材料:
オーガニックりんご…2個
砂糖…大さじ1(お好きな甘さに調節してください。)
バター…大さじ1

カラメルの材料:
砂糖…大さじ3

作り方:
1:オーブンを350 Fに温めておく。

2:ニジヤオーガニックりんごの芯を取り除き縦長に5ミリくらいの厚さに切って砂糖、バターと一緒に中火から弱火で煮て煮りんごを作る。

3:ボウルにバターと砂糖を入れてよく混ぜ、みりん粕を入れて混ぜ合わせる。更に卵を1個づつ入れてよく混ぜる。

4:3に粉とベーキングパウダーを混ぜた物を振り入れて混ぜ、小麦粉(分量外)をまぶしたレーズンを入れて混ぜていく。

5:23センチの丸い形にノンスティックのアルミホイルを敷く。

6:フライパンに砂糖大さじ3を入れてお好きな濃さでカラメルを作り、5の型にポタポタと全体的にたらす。

7:6の上に煮りんごをきれいに並べて置いていく。

8:7の上にパウンドケーキの生地を流し入れて、少し高い所から型を落として空気を抜く。

9:オーブンで25分から30分焼き、串をさしてみて何もついてなかったら出来上がり。

10:そのまま冷ましてから、お皿の上にひっくり返して煮りんごが上になるようにだす。