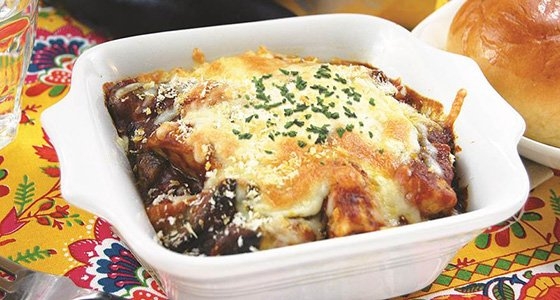 Ingredients (Serves 2-3):
400g Chicken Breast
150g Eggplant
50g Nijiya Curry Flakes
2 Tablespoons White Wine
100g Diced Tomato Can
2 Teaspoons Olive Oil
Mozzarella Cheese to taste
Panko to taste
Parsley to taste
Salt and Pepper to taste
Directions:
1. Cut the chicken breast and eggplant into bite size pieces. Sprinkle salt and pepper onto the chicken breast.
2. Heat olive oil in a pan on high heat. Cook the chicken until slightly brown on both sides. Remove the chicken from the pan and set aside. Put the eggplant into the heated pan. Add white wine and cover to steam the eggplant.
3. Combine the eggplant, tomatoes, chicken, and curry flakes into an oven-safe pan.
4. Sprinkle mozzarella cheese and panko on top. Place it in the oven and bake until brown. Remove it from the oven and top it off with chopped parsley. 
---
材料(2、3人分):
鶏むね肉…400g
なす…150g
ニジヤカレーフレーク…50g
白ワイン…大さじ2
トマト缶(ダイス)…100g
ピザ用チーズ…適量
パン粉、パセリ…適量
オリーブオイル…小さじ2
塩、こしょう…少々
作り方:
1:鶏肉、なすは食べやすい大きさに切る。鶏肉に軽く塩、こしょうしておく。
2:フライパンにオリーブオイルを入れて強火で熱し、鶏肉を両面さっと焼いて取り出したあと、なすを炒めて白ワインを加え、ふたをして蒸し焼きにする。
3:トマトと鶏肉とカレーフレークを入れて一煮立ちさせ、耐熱容器に入れる。
4:チーズ、パン粉をかけてオーブントースターで焼き色がつくまで焼く。仕上げにパセリのみじん切りをのせる。