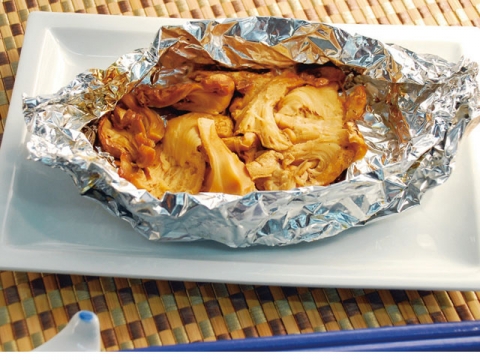 Bake matsutake with other ingredients such as ginkgo nuts and chicken to further enhance the flavor.
銀杏、鶏肉などを入れると一層美味しくなります。
Prepare the matsutake and shred by hand. Wrinkle up a piece of aluminum foil and then open it. Place the matsutake on the foil, and sprinkle with a small amount of salt and 1 tablespoon of sake. Wrap firmly and fold the ends to form a tight seal. Bake in the oven for about seven minutes.
下処理をした松茸を適当に手で裂き、アルミホイルを一度丸めてしわを作ってから広げ、松茸をのせる。塩少々、酒大さじ1をふって包み込み、しっかりと口を留めオーブンで約7分焼く。